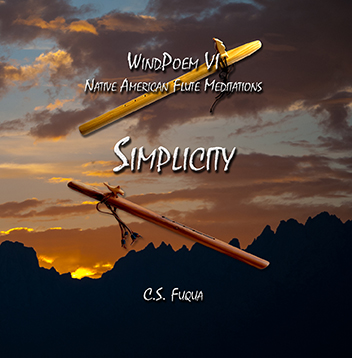 Simplicity, the sixth in the WindPoem ~ Native American Flute Meditations album series by C.S. Fuqua, has been released and is being distributed to everywhere good music's available. BandCamp has the digital download for $7 and includes unlimited streaming.
Better yet, sign up for the BandCamp WindPoem subscription for $30 and get ALL SIX WindPoem albums, the Sinner's Suite World Fusion EP, and other bonus materials for immediate download. The annual subscription also includes immediate download of all new WindPoem music released during the subscription period.
WindPoem music has been praised for its meditative, relaxing quality and is utilized to create a soothing, healing environment for yoga practice, meditation, cancer treatment, hospice care, and more.
Available now at most online music stores, including Bandcamp, Amazon.com, iTunes, GooglePlay, and more, in CD and/or digital download formats. Stream the WindPoem series at Pandora, Spotify, Youtube Music, and other streaming services.