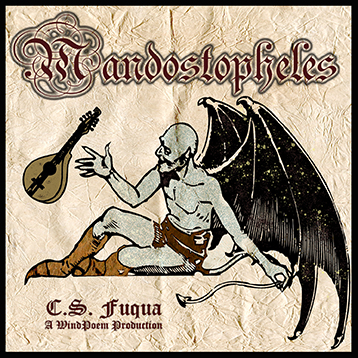 (Mandostopheles releases 28 November 2023.)
As internet sales and streaming platforms require ever stricter music categorization, the latest offering from Las Cruces-based musician C.S. Fuqua refuses to be pigeonholed. His new album Mandostopheles combines traditional and modern music styles and instruments to create a fresh sound Fuqua says is best described as world jazz fusion.
"These songs are meant to stand on their on rather than exist as components of a channel where each song sounds similar in some way to all the others," Fuqua explains. "Some of the tunes blend Americana, bluegrass, and jazz, while others world, ethnic, and rock. They're music, pretty good music, for listeners to either like or dislike based on their own personal musical preference, not some algorithm or corporate hooligan's focus on dollar signs."
Mandostopheles, like his previous albums, utilizes various ethnic instruments from around the world, primarily the Native American Flute. "The native flute has such a soulful sound, both as a solo instrument and accompanying instrument," Fuqua says. "The flute adds an ethereal element to these songs that's familiar yet brand new and exciting."
Mandostopheles is Fuqua's eleventh album in a series featuring seven solo native flute albums and four multi-instrument world jazz albums. Fuqua utilizes native flutes he has custom-crafted. He is the author of Native American Flute ~ A Comprehensive Guide ~ Craft & History as well numerous other books, with work forthcoming from Tuxtails Publishing and Flick-It-Books in 2024. Two albums are slated for 2024 release as well.
For more information regarding Fuqua's music and books, please visit http://csfuqua.com. To preview Mandostopheles and his other albums, please visit http://csfuqua.bandcamp.com. His music is available on most sales and streaming platforms such as iTunes, Amazon, Spotify, and Pandora. Fuqua is available for performance and educational presentations.